Spring is in full swing, or at least the swinging back and forth between winter and summer that happens so often at this time of year in the UK. Having a roof lantern in your home extension is a great way to ensure you are maximising the suns rays at home this spring. We all want to soak up as much sun as possible each year, because it's so rare to have consistently good weather in this country. With a well-placed roof lantern or skylight in your home you can bring in the sunshine for much longer each day and find the perfect spot to relax.
For many houses the traditional design means there just isn't much natural light available, even at times of year when the sun is beating down outside. A roof lantern or skylight, if placed correctly, can change that and dramatically alter the feel and character of a property.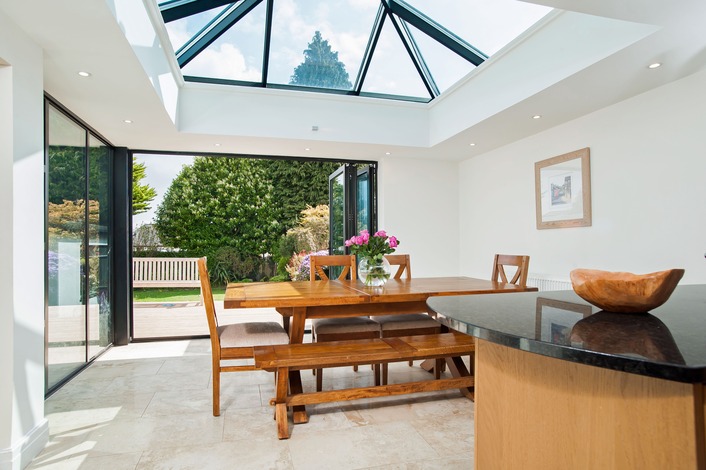 A roof lantern placed in the centre of a flat-roof extension ensures that when there is sun outside you always benefit from natural light flooding into the room below. Not only that, but an elegantly designed roof lantern will create a stunning centrepiece for the room, a focal point for you to entertain around and a wonderfully relaxing space to live in.
You might also find that it isn't just the extension itself that benefits from the increase in natural light. The new space will be filled with full and bright light long into the evenings, perfect for late dinners or a relaxing corner to curl up with a book. The adjoining rooms will also benefit from the influx of natural light. Whether the adjoining space is a kitchen or living room, it will be bathed in light, breathing new life into what could otherwise have become a stale and dark room.
Working alongside skylight specialists and roof lantern manufacturers is the best way to make sure that you get as much light as possible into your home. Whether you install your skylight above a dining room, reading area, office, or games room, having more light, for more of the day, will help you to enjoy your time at home to the full. Speak to your local skylight specialists to put together the perfect plan for bringing light and calm in to your home.