Glass is a fabulous material to be used in interiors of your houses and buildings. Glass goes with almost everything from inside of your house to the commercial buildings. Glass brings elegance and beauty into your house and space.
Glasses have the unique feature of improving the interiors of any homes or offices, but it is very important for you to be careful when purchasing them. Glasses are quite expensive, which is why you should closely check them for damages. Also, you will need to make sure that the materials that are used along with the glasses are also of good quality, so that you get extended durability from them.
Reasons for using glass balustrades in designing of property
Nowadays, balconies, stairs, and terraces have risk of falling down, and thus balustrades are placed to secure the space. Balustrades are decorative element of fences, which are made up of wood, brass and glass.
If glass is used in balustrades of staircase, balcony or terrace, then they should be designed appropriately to withstand the weight and enhance the look of the exterior or interiors of your building.
There are various reasons why glass balustrades are used. Firstly, glass allows the light to pass through and brightens the entire area. Any combination of material can be used with glass. It also adds style and class to any building. Maintaining glass balustrade is very easy and cleaning them is not a problem at all.
Maintaining safety of Balustrade using clamps
To maintain the safety, glass of about thickness of 10mm or 12mm must be used on stairs and balcony. It means that glass panels are heavy, so glass clamps should be used in adequate quantity approximately four for a meter square, so that weight of panel is shared evenly. Also make it a point that you do not to use clamps in excess, as it will look messy and clumsy.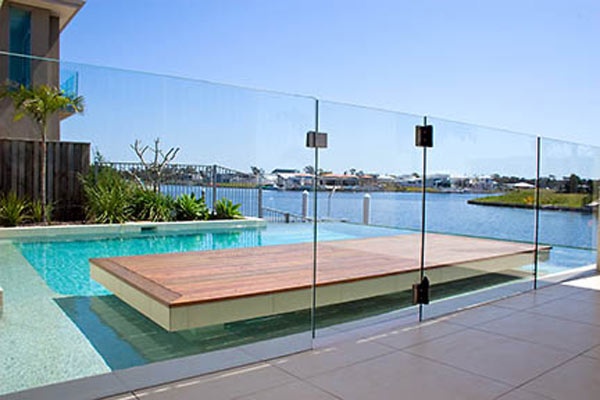 Readymade clamps are available easily available online in round and square shape. These clamps are also available in polished and matt finished look. Using metal with glass is not a good combination, as metal will scratch the glass making it fragile. Therefore, rubber when used, it protects balustrades from any kind of stretch or breakage.
Positioning of glass panel is of vital importance. Clamps should be placed along the edges. Glass clamps also require maintenance, and it is mandatory to treat them with case to ensure longevity. Before using glass in your houses or commercial building, one needs to first get the safety measures right and take the help of the professionals.